Over time, the fundamental styles of trousers and pants have undergone significant changes. These types of women's pants have now become fashion statements for a vast majority of women. To keep you updated with the latest fashion trends, we have put together a list of the top different types of pants that are currently in vogue for women. So let's start discussing the current types of women's pants below…
Collection of Commonly Favored Different Types of Women's Pants
Denim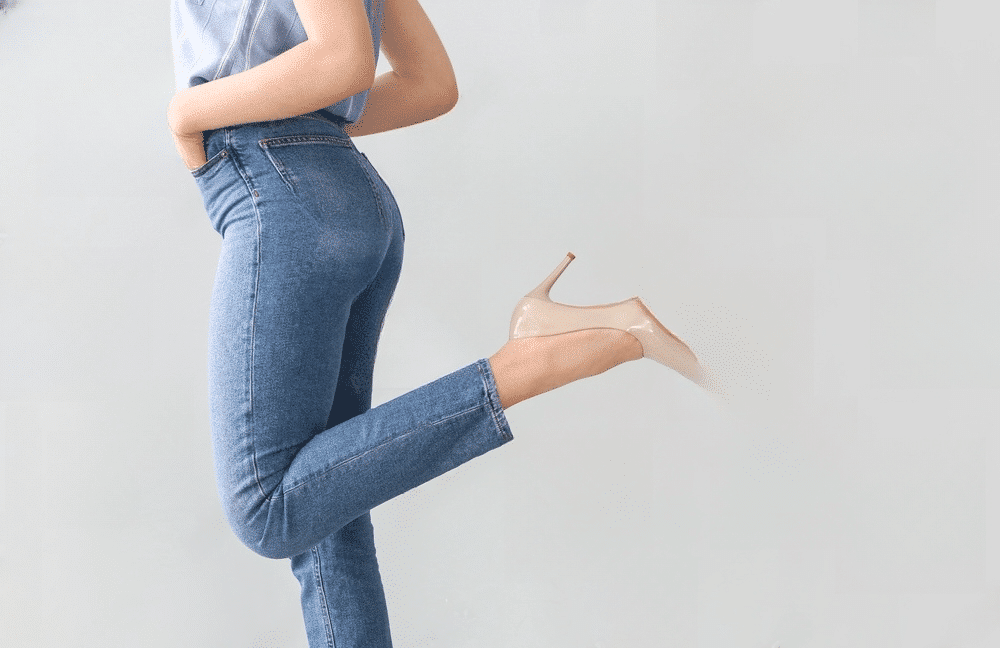 Jeans are pants that are worn by many people all over the world. They are liked by both men and women. Jeans come in different colors, styles, and types. Some jeans have a high waist. One good thing about jeans is that they look good with anything, such as shirts, blouses, or simple t-shirts. You can wear comfortable jeans for both formal and casual occasions. Nowadays, there are many styles of jeans that can suit both looks.
Dress Pants
Dress pants are very common pants that people wear to work or formal events. Women usually wear them to look semiformal or formal. They are made of nice, fancy material that can be a little expensive. The pants usually have a zipper or buttons in the front.
Jumpsuits
Overalls or jumpsuits are special types of clothes that have a top part and pants that are attached together. The stitching goes all the way from the neck down to the crotch at the front and back. People who work in certain jobs wear overalls because they protect their regular clothes. Children also like to wear jumpsuits as they are comfortable and easy to move around in.
Culottes
Culotte is a French word that means different types of shorts, panties, pants, knickers, and trousers. These pants usually go up to the knee or a bit lower. Capri pants are also called culottes and they are pants that are a little bit longer than shorts, but shorter than regular pants. The bottom of these pants is folded up and falls below the knee.
Harem Pants
Harem pants are known for being very comfortable and stylish. They bunch up at the waist and at the ankles. There are elastic bands or drawstrings at the waist that help to hold the pants in place. Harem pants can be made of silky material or be loose and baggy.
Baggy Pants
Baggy pants are pants that are not tight, but instead are loose and have extra room. They are a style of clothing that is meant to be oversized. Harem pants are one type of baggy pants. Another example of baggy pants are jeans that are purposely made to be loose-fitting.
Bell Bottoms
Bell bottoms or flared pants fit snugly at the waist, hips, and thighs, but then flare out at the knees and get wider as they go down. Boot cut jeans are an example of bell bottoms, but the flare starts lower, usually at the knee and continues to the ankle.
Leggings 
Leggings are very tight pants that are usually made of stretchy materials like denim, Lycra, or cotton. They go well with loose-fitting tops and are usually worn in casual situations. There are different types of leggings like treggings which look like pants, and jeggings which look like jeans but with some differences.
Tights
Tights are pants that some people think are the same as leggings and use the same name for them. But there is a small difference between tights and leggings. Even though they are made of the same material, tights cover the foot as well, while leggings do not.
Stirrup Pants
Stirrup pants are pants that look a lot like leggings. The only difference between stirrup pants and leggings is that stirrup pants have a strap that goes under the foot to hold them in place, kind of like a belt.
Punk Pants
Punk pants are pants that have many pockets and stitching lines, but they are there for decoration and not practical use. Younger people like to wear these pants, and the style changes every year.
Cargo Pants
Cargo pants, also known as carpenter pants, are a type of pants that have more pockets than regular pants. These pockets are often located lower on the leg and there are usually more than four pockets. Some cargo pants also have loops for tools like hammers.
Fatigue Trousers
Fatigue pants are pants that look like the ones worn by soldiers during the Vietnam War. They have a zip fly and inner drawstrings, and also have big pockets with buttons, made from camouflage fabric.
Stovepipe Pants
Stovepipe pants, also known as drainpipe pants, are a type of pants that fit very tightly to the body, similar to skinny jeans. They are designed to be very slim and usually stop at the ankle.
Peg-Leg Pants
Peg-leg pants are loose-fitting pants that become narrow towards the ankle and end there. The pants are designed to be slim-fitting at the bottom, and have darts on the legs to create this shape.
Eastern Pants
Eastern pants are a type of pants that have either a drawstring or elastic waistband and are very loose, with wide flares at the legs. Some examples of eastern pants include salwar pants, Patiala pants, and dhoti pants.
Toreador Pants
Toreador pants are short pants that fit tightly and end just below the knee, close to the calf. They are called toreador pants because they look like the pants worn by Spanish bullfighters.
Dungarees
Dungarees are pants that have a piece of cloth attached to the back with two straps that can be adjusted. The material used to make dungarees is usually very strong and sturdy. The attached piece of cloth, called a bib, often has patches or a pocket on it.
Cropped Pants
Cropped pants are pants that are cut so that the hem ends just above the ankle. Flood pants are a specific type of cropped pants that are also cut above the ankle.
Jodhpur Pants
Jodhpur pants are not very common, but you can still find them easily. People often wear them at Halloween parties. These pants are loose around the thighs and become tight at the bottom.
In this article, we have looked into and made a list of some of the most popular types of pants and trousers that women like to wear. If you want to manufacture different types of women's pants in bulk, Beautiful Connection Group is here to help you. The Beautiful Connection Group is a clothing manufacturing company in the USA. This company manufactures women's clothing items. They make different types of dresses like tops, t-shirts, leggings, skirts, etc. This manufacturing company is best for new clothing business owners. Because they do not have any higher "minimum purchase" amounts. They have a minimum purchase amount of 50. You can customize any design of dress from them. Moreover, you can make any dress with any fabric. For any further details, you can check their website.