BEAUTIFUL CONNECTION GROUP is a professional wholesale clothing manufacturing company in the USA specialized in custom women's apparels like coats, jackets, tops and dresses. Company grew alongside their customer base. They work as they believe that "love can…." They work to serve you at their best.
They maintain the traditional tech experiences and at the same time look for artificial intelligence technology and the development and utilization of machines. They have always been working hard, trying to become the best high class women's wear based in the fashion industry. They have been working with customers all over the world. Their consistent honesty & integrity in either business or society relations are key factors that make the local and international reputation of their company.
As they understand that different companies have different requests, they extend their product service offering by sourcing what they can't produce. Based on their extensive global supply base, they can produce high or low volume of all product categories within varying levels of fabrications: apparels, trims, accessories and packaging, while ensuring you of the most qualitative and effective merchandise.
They guarantee the combination of low-cost material and high quality to meet your requirements. Optimized by high-developed manufacturing infrastructures and technologies, their team ensures expert assistance and professional procurement services.
Team Management
Design Team
Their design team is composed of 5 dedicated designers based in French and Shanghai. They create 4 collections and over 1000 designs every year, for customers to choose from and cooperate with those who wish to design their own collections. This service is up to their customer's need, and their designers will design several styles for them to choose based on customer's requirements, styles and color preference.
Merchandising Team
Specially their team has over 5 years of experience having adaptability and flexibility which enable them to be aware of product conception's differences for each market.
Sourcing Team
Their sourcing team has more than 15 years of experience in sourcing and factory operation management. They are in charge of supplying the best quality of raw materials as well as trim, accessories and finished products for their company.
Manufacturing Team
They collaborate with their 35 partner factories all around Asia and Southeast Asia, and New York . Their factories are carefully chosen according to criteria such as good quality, professional product services and delivery time.
Quality Control Team
Their quality control team is trained by international organisms in order to comply with customer's market requirements.
Logistic Team
Their team prepares, follows and coordinates with their 3 logistic partners to ensure smooth deliveries to your warehouse or stores.
Partners
They take quality, ethical and environment matters extremely seriously. For this reason, all of their partners comply strictly with quality directives (BSCI, WRAP…), ISO9000, ISO14000, Oeko-Tex, AQL as well as other certifications requested by their clients.
Company Operation Chart
As you get in touch with them, they assign an account manager to your project. He /She will be handling all communication between your team and their team and assisting you through all steps of their Company Operation Chart.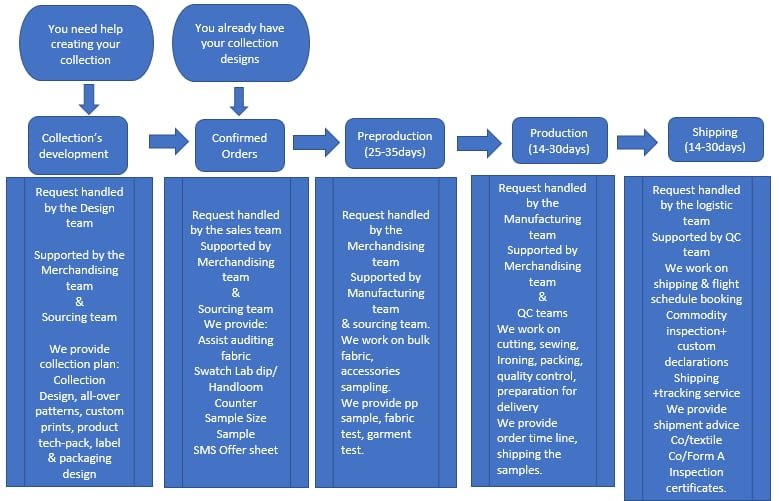 If you are looking for the best women's clothing manufacturer in the USA, Beautiful Connection Group will be your first choice. So don't be late, just upload your concept here.